As you might know, it's during the Olympic Games of 1908 in London that the current 42.195km marathon length was set. After reading an excellent article by M. Polley [1], I've tried to
map the course
on Google Earth (also on
GoogleMaps
). It's not trivial to follow the original route in some places, and even completely impossible toward the end, where the White City Stadium has been replaced by the BBC Media Village a few decades ago...
On Sunday, Alessio and I decided to attempt the course casually. We took the train to Windsor and started running gently towards Eton. The only actual remaining feature mentioned by [1] is a milestone in Eton, that we unfortunately failed to notice...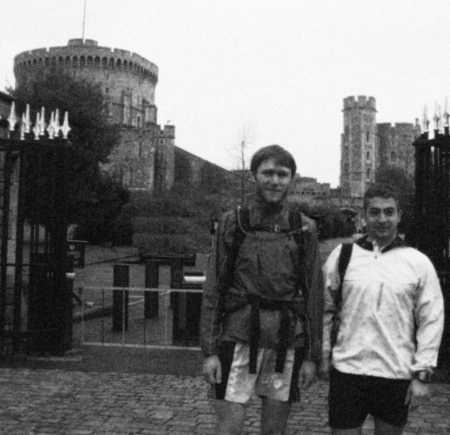 Two runners at the start of the 1908 Olympic Marathon (Windsor Castle).
Nowadays, the route would definitely not be considered as runner-friendly, as pointed out by
Fiennes
. A long stretch of dual carriageway between Slough and Uxbridge is rather noisy. After a quick sandwich break in Ruislip we headed towards Harrow, where a commercial centre has been built in place of the original route path.
Overall, the route is not hilly, but not flat either! We could feel the gentle climbs towards the end. After Wembley Stadium, we crossed a major train line hub at Harlesden, from which it was impossible to follow the original route. We passed by
Dorando
Close, and finished on the "souvenir" line painted on the pavement of the BBC Media Village, in front of a table of Olympic Medallists. Nice run!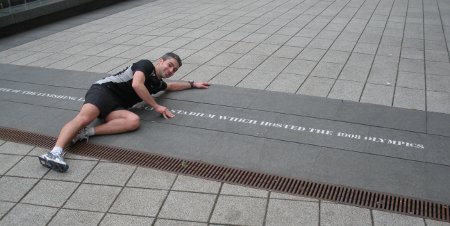 Re-enactment of the 1908 Marathon finish with a twist: what is Dorando hadn't been helped by the officals?
Ultra old marathon.
[1] Martin Polley, From Windsor Castle to White City: the 1908 Olympic marathon route. The London Journal, 34(2), pp 163-178, July 2009. [
online
].
Pictures courtesy of Alessio.