UTMB 2005
By Julien on Friday, January 6 2006, 10:56 - UTMB - Permalink
This article is mostly a compilation of a couple of articles posted on my previous blog and adapted, plus some extra info from various sources.
Contents:
---
Overview
The
Ultra-Trail Tour du Mont-Blanc
is a mountain race of 158.1km and 8639m of positive ascent in 3 countries - France, Italy, Switzerland. Half of the trail is run by night and the difficulty is due to the ascent as well as the actual distance. There were 2000 runners registered, 1922 on the starting line and 773 reached the finish line. We ran on large paths, roads, narrow paths, stones, grass, ... There were some check-points and food+water stations every 10km-ish. There were also 4 big base camps at the Chapieux (km44), Courmayeur (km72), Champex (km119) and Chamonix of course, in which were provided hot meals, beds and massages.
I've obviously not run full-speed all the way long ! I've tried to walk at good pace in the uphill sections and to run in the downhill ones. I took 35h 31min 37sec to complete the loop (best time being 21h11), ranking 233
rd
. That's an average speed of only 4.45km/h or 5.1km/h without the main stops.
The entire race was amazing. I met loads of people during the run but also beside, such as in the street, at the youth hostel, in the train, the coach, the shops, etc ... There is a kind of solidarity between the 2000 runners which is really great.
Profile of the race available on the UTMB web site (click on the French flag if nothing appears).
---
Why the ultra trail ?
This sounds crazy isn't it ? So why trying to do that ? First of all, I like hiking in the mountains. I like to see the as much landscape as I can in a hiking day. I also enjoy running, especially long distances (although a marathon is quite a short distance in this context). I like the challenges. I like to explore my limits, and I've been rather disappointed not to really see these limits at the Belfast Marathon. So it was natural to me to be attracted by such an adventure.
Training plan
I obviously tried to stick on a training plan. But it was quite difficult, because of my work, because I went on holidays and also because I move in a new flat a couple of days before the race. On top of that my bike got stolen. So my training plan was largely influenced by these constraints.
I've run 3 times per week (15km, 15km, 21km) and swim twice (1.5 to 2km). I've add some circuits training sometimes. On top of that I went to run a night in the Lake District as detailed below. I also went hiking a week in the Alps just 3 weeks before the race, to get back into high altitude, long endurance and mountain path technique. If I could, I would have add a cycling session per week and a second mountain training by day.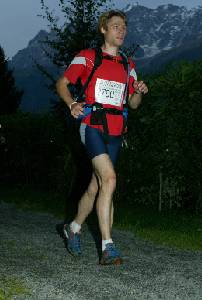 Running
Night training in Lake District
2 months before the race I went running by night to Lake District in order to test the gear and the beast in rather real conditions. As I got lost (some would say "missed the path") several times, I don't know exactly the distance and total ascent I've run, but it should be roughly something like 50km +1700m -1700m (ie. 1/3 UTMB distance - 1/5 UTMB ascent). I started from Windermere at 10:30pm and finished at Penrith the following day at 7am. The weather was quite good: around 10°C, quite cloudy with a small moon croissant (isn't it nice my frenchism ? ;) ).
I could train on various kinds of path: bogs (very nice by night !), grass, bridle ways, road, stones, rock ... Running by night is also a good way to evaluate the navigation skills... I went jogging (7 to 10km/h) on the flat and slighty downhill paths, walking fast on the ascents and steep downhill sections. No more than 5-minute stops. It went quite ok, although I expected to be a bit faster.
I don't think my mind was very clear towards the end. I noticed afterwards that I obviously got lost pretty more often and in easier conditions in the second half of the trail. I'm glad I finished still running and had good feelings. Surprisingly I didn't feel so tired while arriving at Penrith but if I actually did, it would have been disappointing ...
About the gear:
shoes (Asics Gel Orient) went perfectly ok: not a single blister after 8 hours in the mountains ! very light - the grip was ok even downhill in wet grass
bag (Décathlon Diosaz raid 17) with its 2L bottle was rather confortable although I got a bit marked on the hips (belt probably too tight), but I'd prefer more inner pockets because it was a bit messy
head torch (Frendo DIODEX) (*) was used only from midnight to 3am - I switched on 1 LED for most of the time, 3 LEDs for the fast downhill sections and the xenon bulb when I was really lost
About the beast:
my knees were quiet most of the time, but could feel them at the end - I should rely more on my poles
my stomach was not very very happy, but I could eat anyway - I had some power gels, power bars and the energy powder in salted water, for a total of approx. 2000 Kcal
my brain was a bit anxious to run alone by night during the first hour, but was great after that
(*) page translated by google - original page in French.
The race: my story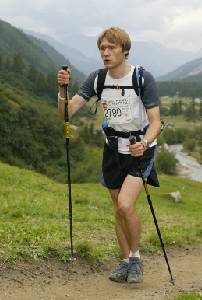 Struggling
The race started slowly from Chamonix (France) on Friday at 7pm with nice "runners jam". We got quickly a
stunning sunset on the Mont-Blanc
chain of mountains of which even the locals said was unsual. Then was the night, with a clear sky. Everything went well for me all night long, power walking the ascents, running the flat and not-too-sloppy descents. Lots of people in the street to encourage us, amazing. It was very nice to watch backwards the snake of light made by the runners head torchs, swinging in the mountains. The first night went pretty all right, and a couple of hours after the sunrise I arrived in Courmayeur (Italy) on Saturday morning. I changed my clothes (only once in 35h !), got a great massage and ate some lasagne. For the first time I felt a bit sleepy.
Leaving from Courmayeur, I made a big mistake by climbing very fast after eating a lot quickly. I felt really dizzy, head spinning and stomach ache. I really doubted about being able to finish or even to reach Switzerland. That was the worst moment of the race. I had a 30-minute rest at the refuge Bertone and, lucky me, I was fresh, stomach cleaned, and could leave running full speed ! This kind of sudden relief while all hope has gone is actually rather common during ultras. This rest explains my small drop in the ranking for those that noticed. The way to Champex (Switzerland) was a bit more difficult than before, sometimes boring, starting to be alone more and more often. Ascent of the Col Ferret was physically quite hard to me. Also more and more people were stopping because of tendinitis-like or stomach problems. I arrived at Champex a bit before the night, were I got a hot meal first, to have time to digest and then a massage. I was a bit messed up there. Moving around, not knowing exactly what at should to first. I had planned to sleep for an hour, but I didn't feel really tired (it's hard to explain...) and thought it would be therefore worse, so I left alone in the night, the rain and the fog !
On top of the bad weather, this was also probably the most technical part of the trail: a long ascent in the rocks and roots by night. The batteries of my head torch went quickly down, but I took a lot of time to realise that (I started to be tired, but I wasn't really conscious I was). So I was walking seeing virtually nothing but my shoes. I didn't feel confident at all. Then I decided to change the batteries (and here the second torch is useful !) and felt much better. I then found a runner to go on with. I had a couple of hallucinations: I saw lots of beautiful paintings on the rocks around the path. But that was not funny compared to some runners having seen some crocodiles in the forest or mice climbing their legs... The descents were awfull, with up to 10cm of mud and no visibility because of the combo night+fog. We were more skiing than anything else, and it lasted for hours. We heard many times people shouting in the night that they were bored (well, they screamed it obviousy in a more direct manner ;) ). Eventually we arrived at Argentière - 9km of full-of-stones path left. I was really fed up with it, because it's very hard to run that by night, and I wanted to finish it fast. Eventually at 6am the day appeared more or less. So I took my MP3 player with loud dance music to boost me up and ran rather fast the last 4km virtually without stopping. The last title I heard was "
I like the way you move
".
The following one in the playlist was "
I will be there
". That's a funny coincidence because arriving at 6:30am, there's not much people around ! Around 20 persons only were standing nearby the finish arch. Also the photographer was not ready and asked me to slow down a bit... The advantage is that I've been greeted personnaly by Catherine Poletti (the organizer) during 5 minutes. I took a long time to realise it was finished.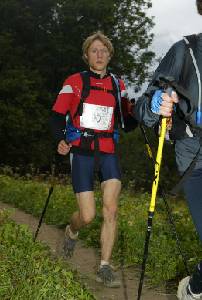 Following
In the list of potential problems I could have got, I was then quite lucky. Cramps: no but rather stiff right calf, hypoglycemia: no, dehydratation: no, tireness: a couple of minutes of sleep-running, dodgy knees/ankle: only in the last 20km, hypothermia: no, lazy stomach: yes but fixed rather quickly, unconsciousness: only minor hallucinations, ankle twist: no, renal failure: no, serious fall: even not a single fall !, huge blisters: only a small one in the last 10km, burns: no, heart attack: no, the finish line: YES !
I was not really fresh when I arrived, but I thought I was. The fact is that I didn't really realised I finished ! I was slightly happy, nothing more. I actually realised what I've done the following day while leaving Chamonix by bus and had an amazing emotion heating me suddenly for half-an-hour.
Surprisingly, I couldn't sleep for very long after that: my sleeping cycles have been messed up for a while. The 3 following nights I woke up every hour. I recovered faster than expected (in appearance), only my knees remaining a bit dodgy after a couple of days.
Live race times
This information is also available with more details on the
UTMB website
.
The speeds are simply computed using the global time and the distance.
Stops are included
in the speed. Some values are not representative at all of the "motion" speed due to a long stop (>30min). In this case an approximation excluding the stop time is given in brackets.
They look ridiculously tiny, aren't they ? Keep in mind that the winner (Christrophe Jacquerod) managed to keep an average speed of 7.5km/h ... respect !
| | | | | | | |
| --- | --- | --- | --- | --- | --- | --- |
| Way Point | Distance | Date/Time | Advance on expected | Running Time | Speed | Ranking |
| Col de Voza | 13km | Fri 20:58 | 0h30 | 01h55min50s | 6.7km/h | wrong |
| Les Contamines | 25km | Fri 22:32 | 0h54 | 03h29min59s | 7.6km/h | 537 |
| La Balme | 33km | Fri 23:52 | 1h19 | 04h50min24s | 6.0km/h | 411 |
| Refuge Croix du Bonhomme | 38km | | | | | |
| Les Chapieux | 44km | Sat 02:16 | 1h29 | 07h14min28s | 4.6km/h | 370 |
| Col de la Seigne | 54km | Sat 04:37 | 2h07 | 09h35min30s | 4.3km/h | 345 |
| Refuge Elisabetta | 58km | Sat 05:10 | 2h05 | 10h08min37s | 7.2km/h | 342 |
| Arête Mont-Favre | 63km | Sat 06:33 | 2h13 | 11h31min02s | 3.6km/h | 325 |
| Col Chécrouit - Maison Vieille | 67km | Sat 07:17 | 2h15 | 12h15min32s | 5.4km/h | 333 |
| Courmayeur | 72km | Sat 07:58 | 2h37 | 12h56min02s | 7.4km/h | 319 |
| Refuge Bertone | 77km | Sat 10:21 | 2h36 | 15h18min49s | 2.1km/h (3.6km/h) | 308 |
| Refuge Bonatti | 84km | Sat 12:12 | 2h40 | 17h10min40s | 3.8km/h (5.1km/h) | 363 |
| Arnuva | 89km | Sat 13:10 | 2h41 | 18h08min06s | 5.2km/h | 350 |
| Grand Col Ferret | 93km | Sat 14:44 | 2h57 | 19h41min59s | 2.6km/h | 326 |
| La Peulaz | 97km | Sat 15:20 | 3h01 | 20h18min09s | 6.6km/h | 318 |
| La Fouly | 102km | Sat 16:15 | 3h12 | 21h13min23s | 5.4km/h | 304 |
| Praz de Fort | 111km | Sat 17:45 | 3h15 | 22h43min24s | 6.0km/h | 281 |
| Champex d'en Bas | 119km | Sat 19:31 | 3h42 | 24h29min32s | 4.5km/h | 275 |
| Bovine | 126km | Sat 22:27 | 3h56 | 27h25min17s | 2.4km/h (3.6km/h) | 256 |
| Trient | 132km | Sun 00:03 | 3h50 | 29h01min24s | 3.7km/h | 258 |
| Les Tseppes | 135km | Sun 01:22 | 4h04 | 30h20min10s | 2.3km/h | 251 |
| Vallorcine | 142km | Sun 03:23 | 3h55 | 32h21min29s | 3.5km/h | 248 |
| Argentière | 149km | Sun 04:47 | 4h00 | 33h45min42s | 5.0km/h | 243 |
| Chamonix - Arrivée | 158km | Sun 06:33 | 4h27 | 35h31min37s | 5.1km/h | 233 |
Speeds show pretty well how I felt during the race. The easy start and the progressive deceleration (the slowest being during the second night) before a slight acceleration for the last kilometers. It's easy to see that I was physically at the limit of my capacities during the ascent of the Col Ferret. Another interesting point: the ascent speed of Bovine (2
nd
night) is nearly the same than its descent !
What I've learnt
With a little bit of distance, I've learnt many things about the trail and myself in general.
psychological preparation - I've tried to visusalise the race for months before the race, I've imagined the worst conditions (night, wind, rain, snow, etc). I've read many forums, blogs, to try to "feel like" in the race, etc ... And this is very important to avoid any unnecessary surprises during the race that are often a prelude to the end of the story. Everything is possible, if you believe enough in it.
being a hiker - it seems that many people withdrew because of the rain/the mud. Being a hiker, ie. being used to very cold weather (hi Bastien & Mommas ;) ), heavy & steady rain (hi Odyle ;) ) but also simply rather technical mountain paths, in order improve the resistance affected by the tireness/unconsciousness.
sudden relief - it seems quite common during ultras to feel very bad (for any reason such as stomach, head ache, cramps, hypoglycemia, ...) and to be hopeless about keeping on going, but suddenly feel fresh again, and even without necessarily having a rest.
recovering - after the race, sleeping cyles are affected. It sounds that muscles are fine again after only a couple of days, but actually a deep and long recovering is required. I went to run London to Brighton (90km) on my own only 2 months after: it went rather fine but I got some weird pain in the hips afterwards.
life camp "todo" list - I knew it before: warm life camps are some kind of magnets rather hard to leave. I can't say I've wasted lots of time there, but I was not optimal at all, walking around, wondering what to do first, swapping ideas all the time. A precise list of what to do might help against the insconsciousness.
light - change the batteries at a life camp (even if they look OK), because it's much harder in the dark (and also harder to figure out when to do it).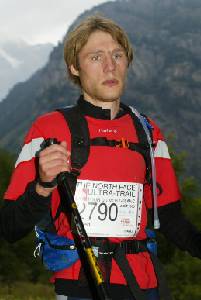 Doubting
Gear list
main bag

bag: (Décathlon Diosaz raid 17)
shoes: (Asics Gel Orient)
2L (water + energy powder) + spare water tank
salt
2 head torches + spare batteries
survival blanket
whistle
Elastoplaste
Power Gels + energy bars
energy powder in 2 small plastic bottles
Tuc biscuits
waterproof light jacket
thights
long-sleeves hot & light top
cap
ID card
mobile phone
hiking poles
Laguiole pocket knife
vaseline
road-book
paracetamol - Compeeds
gloves & ski bonnet
tissues
waterproofs bags
timings table
AVERT banner
MP3 player

spare bags for Courmayeur&Champex

small bag to avoid a mess up
spare shoes
spare underwear
spare short/T-shirt
massage gel
vaseline
Power Gels + energy bars
Tuc biscuits
energy powder in a small plastic bottle
timings table

for Courmayeur for Champex
items written in bold were compulsory
items written in italic have not been used
Comments:
I've not used most of my food/energy drink because I ate enough at the food points. I put some energy drink in the water tank all race long, but at the end I was fed up with sweet things, and was dreaming of a simple glass of clear water ! Maybe using 2 water tanks would be better (clear water & energy drink).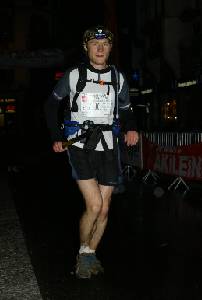 Finishing
MP3 playlist
Hereafter the list of MP3 I used to boost me up at the end of the race:
| | |
| --- | --- |
| slow | fast |
| Dolly - Je n'veux pas rester sage | Darude - Sandstorm |
| Dolly - C'est pour toi | Darude - Burning |
| Genesis - Invisible Touch | Darude - Feel the Beat |
| Genesis - Jesus he knows me | Darude - Out of Control |
| Genesis - Land of confusion | Darude - Sandstorm (js16 mix) |
| Luke - Soledad | Global Deejays - What a feeling |
| Luke - La sentinelle | David Guetta feat JD Davis - The world is mine |
| 2 Unlimited - No Limit | Paris Avenue feat Robin One - I want you |
| Armand Van Helden - U Don't Know Me | Mylo - In my arms |
| B.B.E. - Seven Days & One Week | The House Keepers - Go down |
| Boney M - Daddy cool | Bon Garcon - Freek u |
| Boney M - Ma Baker' 99 | Juliet - Avalon |
| Boney M - Rasputin | The Drill - The drill |
| Corona - The Rythm Of The Night | Roman Flugel - Gehts noch |
| Culture Beat - Mr Vain | Bodyrockers - I like the way |
| DJ Xam - T'es Zinzin | Muttonheads - I will be there |
| Modern Talking - You're My Heart, You're My Soul (Remix) | Jupiter Ace - 1000 years |
| Pin-Occhio - Tu Tatuta Tuta Ta | C Mos - 2 million ways |
| Village People - YMCA | Cabin Crew - Star to fall |
| | Angelux - For your love |
| | Tiesto - Adagio for strings |
My fundraising to help combat AIDS
I have decided to use the occasion to raise some funds to fight AIDS in Africa, through a charity called
AVERT
. There is a serious lack of political and religious commitment to provide enough funds and resources for eduction and medical care. Patents on specific medicine leave millions of people without efficient treatment: 2.3 millions of inhabitants of Subsaharan Africa died because of AIDS in 2004. There is still time to reverse the epidemic that is sweeping across Africa.
I've chosen
AVERT
, a charity contributing to numerous projects around the world, helping with the problem of HIV/AIDS in countries where there is a high or increasing rate of infection such as South Africa or the Russian Federation.
People could sponsor me for a fixed amount or make a pledge per kilometre actually run - this gave me some more courage to continue.
I have eventually raised up a total of £503.02
Acknowledgements
I really want to acknowledge many people in a messy order: all those that encouraged me before the race but also the numerous ones that have never understood me and still think I'm crazy, all those that sponsored me for my fundraising to fight AIDS, Yoyo for his
blog
full of advice,
Catherine Poletti
(the amazing organizer of the race), the nurse at the refuge Bertone, the 600 volunteers that were along the route with huge smiles day and night, under the sun or in a freezing rain, the nice kinesitherapists that provided me nearly brand new legs at Courmayeur and Champex, all the supporters around the race that clapped their hands (with special acknowledgments to those at the Contamines), Ludo from the hot-dog shop in Chamonix, the guys&girls at the youth hostel, Mark and Jean-Philippe who both ran a long time with me during rather difficult moments and all those I forgot.
To summarise your feelings I would like to quote the last thing Marcus told me before I left and that I kept in my head all race long: "I don't know if I should encourage or dissuade you to do that...".