Mad, Bad and Dangerous to Know
By Julien on Thursday, December 11 2008, 15:30 - Books - Permalink
A couple of weeks ago (time flies these days) I've attended a lecture by
Sir Ranulph Fiennes
at the Royal Geographical Society. In short Ran was a polar explorer but lately attempted
Everest
twice, climbed
Eiger
north face (as an attempt to cure his vertigo) and ran 7 marathons in 7 days on 7 continents... and all that after a coronary bypass following a heart attack. In other words, it was a pretty motivational conference, giving loads of good ideas ;) . But also showing that willingness can overcome pretty much everything...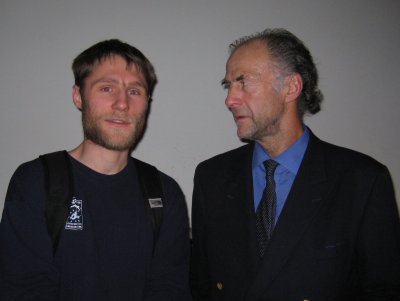 After the lecture, as I was asking for an autograph, Ran realised I was French and started to tell me (in French) about his French ancestor Eustache Fiennes emigrating to England along with the Norman invasion. Indeed his family used to live in the
eponym village
in the North of France. He surprised me a bit as he mentioned that his ancestor actually killed the English King Harold II at
Hastings
. It is assumed that he was wounded and/or killed by an arrow in his eye, but Ran suggested that his opportunistic ancestor used the occasion to finish him off with a large axe. That somehow reminded me a bit of
Capitaine Haddock
talking about his ancestor the Knight François de Hadoque.
Ultra motivation.