New pair of shoes (Salomon XA Pro 3D Ultra)
By Julien on Monday, March 1 2010, 14:55 - Equipment - Permalink
With such a name, these shoes can only be good (although there are also the "Salomon XA Pro 3D Ultra GTX", which must be amazing) :) . I bought these trail running shoes on Saturday and tried them straight away on a 29km run the next day. That might not have been a brilliant idea, as I came back with a massive blister under my left arch. I hope this is only a first-use issue...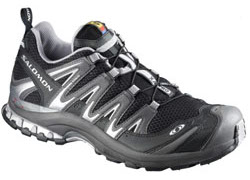 I needed something intermediate between my road running shoes and the Flyroc in order to replace my beloved Asics Gel Orient that carried me on 3 UTMB. The Flyroc are a bit too hard on the concrete (and get worn out pretty quickly on hard surfaces). The
Salomon XA Pro 3D Ultra
is a classic trail running shoe, pretty lightweight, without too much cushioning. As for the grip, it's not too bad on wet grass (although I was expecting a bit better), but not so good in deep mud. I can now wear the following:
New Balance M1062 for the road and hard paths (next: Vienna Marathon)
Salomon XA Pro 3D Ultra for the easy trails (next: Cambridge Boundary Run)
Inov8 Flyroc for the mud, technical trails and off-path (next: Hardmoors55)
Vibram Five Fingers for the fun
Obviously, with experience and practice you can still fly downhill without the need of a massive grip, but it nevertheless makes things easier when you're tired.
Ultra Salomon XA Pro 3D