MSR SweetWater Purifier
By Julien on Wednesday, June 1 2011, 15:51 - Equipment - Permalink
I have finally decided to buy an
MSR SweetWater purifier
, hoping to increase my water consumption on the run. Indeed, the all-in-one bottles previously tested involve squeezing and sucking hard on the bottle, which has been proven rather irritating after a while. With a pump-based system, once the water has been purified and transferred into a regular container, drinking should be effortless.
The MSR SweetWater Purifier works in four stages:
Stainless steel prefilter to avoid clogging by larger particles
Silica depth microfilter against protozoa and bacteria
Activated carbon against chemicals (and foul taste)
Sodium Hypochlorite (ie. bleach) against viruses (and any filter-dodging bacteria)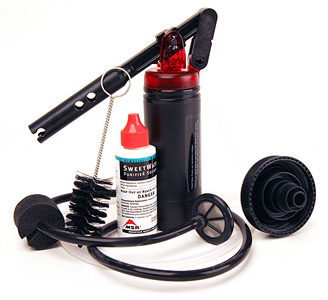 MSR SweetWater Purifier
As you can see from the picture, it is more fiddly than the all-in-one bottles. At 400g, it is significantly heavier too. The water is pumped mechanically through the prefilter and the intake hose, then passes through the main microfilter/carbon and gets out into another hose which can be connected to a container. Sodium Hypochlorite is added later, with a 5 minutes dwell time. If there wasn't a need for chemical addition, I would definitely try to hook up permanently the output hose onto a hydration bladder. In this case, I wouldn't even need to take off the bag to pump water in. But how can I easily add the bleach? I was thinking to use a syringe/needle, but all that gets very fiddly. Suggestions welcome!
As for the speed, I managed to filter tab water at 1.5L/min, but it'll be slower with more turbid water. After bleaching, the water didn't taste much of chlorine, which is definitely a big bonus.
Ultra pump