Marathon des Alpes-Maritimes 2010
By Julien on Thursday, November 18 2010, 11:09 - Events - Permalink
Last Sunday I was back in Nice for my 4
th
marathon of the year (after Cambridge, Three Forts, and Copenhagen) and 7
th
race overall (Hyde Park Relays, Hardmoors 55, and PTL). Definitely a big year, and looking back the Thames attempt was clearly one too many.
The original plan was to follow a 4:45/km pace in order to finish around 3 hours 20 minutes. After a late arrival and delayed start due to a cancelled train, I started the race at target pace for a few kilometres. I was soon to accelerate for some obscure reason, and although I knew I would pay for that later, I carried on taking 5 seconds per kilometre on my plan. I passed the half-marathon just over 1h38 (4:40/km pace), 2 minutes ahead of schedule. I managed to stabilise my pace until about 30km (4:46/km pace), with my legs becoming stiffer, hoping not to get cramps too early. And as expected, I struggled on the last last 10km not to loose too much time (4:59/km pace), before finishing in 3:21:41 (chip time), my new PB (4:40 faster).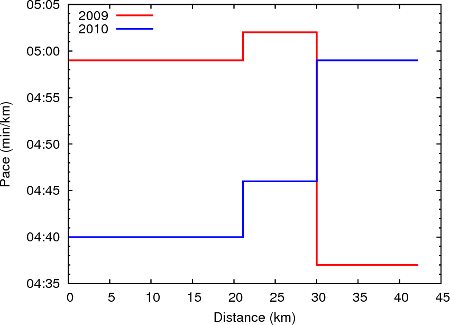 A very different race than
last year
for me. I don't think I could have done much better given my minimal 3-week training plan. Maybe 1 minute, had I started slightly slower. This is a pretty good end of the season, and with a bit of training I might even get closer to 3h15 one day!
Ultra end of the season.