Inaugural Hardmoors 55
By Julien on Tuesday, March 23 2010, 12:03 - Hardmoors - Permalink
Updated 25/03/2010:
speeds and graph.
Last week-end, I went to the North Yorkshire Moors once more to run the inaugural
Hardmoors 55
race, from Helmsley to Guisborough on the Cleveland Way. I know I'm late, John K has already posted his
full race report
on Sunday!
After an uneventful journey to Guisborough I was happy to find a small, yet cosy room at the Fox Inn. Unfortunately, my opinion changed quickly when the live music downstairs started at 9pm to last until midnight. I eventually fell asleep for a few hours and got up at 4:15 to tick off runners on the coach to the starting line at Helmsley. I caught up with the Hardmoors community, Jon (obviously), John K who had just recovered from his chest infection*, Steve, Mark B (sweeping), Shirley, John V, Dave, Flip, ...
I started the race easily, chatting away with Steve. I didn't feel amazing at first, but that didn't seem to have any impact on my speed (see graph below).
The weather was not great to say the least. For the first 7 hours,
ie.
until Bloworth Crossing, it was windy and drizzling. High on the moors, the wind was particularly strong, and even if it was not raining hard, after a few hours everything starts to get damp. I was wearing shorts, a long sleeve T-shirt, a waterproof jacket and my Hardmoors 110 Buff. I put on a fleece at the road crossing between Wainstones and Bloworth as I started to feel uncomfortable. Although I got commented on quite often for wearing only shorts, my legs were fine. My hands were numb, though. According to John K, at least two runners dropped out because of mild hypothermia.
My hopes to see more of the moors than during the Hardmoors 110 night didn't get fully realised, as the fog was sometimes so dense you couldn't see much more than 50 meters away. It was rather grim at times. Everything went rather well for me though, despite the wind draining mental and physical energy. I was expecting to hit some kind of marathon wall at some point after 4 of 5 hours but that didn't actually happen.
After Bloworth Crossing, the drizzle stopped. But the dirt track/road between Bloworth and Kildale is so boring (especially when you can't see anything) that I didn't feel so much better. Two runners I was with (including the first female) left me behind at that point and I didn't get a chance to catch up later.
At Kildale, the legendary Mike M (always marshalling at the cosiest checkpoints) was fulfilling every needs, topping up my water, providing tea and coffee, ... Nice to see a friendly face at that point of the race!
Before the race, Jon said the weather might clear up later, which made everyone laugh. It seemed quite obvious that the day was definitely doomed. But shortly after the Captain Cook monument, the clouds magically cleared up, and the sun even came out at Roseberry Topping for literally 10 minutes before sunset. It was really beautiful at last, the moors in all shades of red, orange and yellow, and the sea in the background. Well predicted Jon! You should write the weather forecast!
The uphill sections were quite hard for me, and I even started cramping up at some point. I think I really need to improve that point. Quite a few runners said that the inclement weather have slowed them down. I think this doesn't really apply to me. For sure, I had to take it easy on the stony downhill sections (well, kind of...) and the wind in the face doesn't really speed you up, but it also forced me to keep a decent pace to stay warm :) . Overall, it was hard physically, but my mental was strong and held it all together until the end.
As I passed the unofficial checkpoint at Highcliff Nab, I still hadn't checked my maps a single time. I was already thinking about the e-mail I was to send to Murdo: "Navigation is easy, getting lost is for newbies"... Alas, as the night started to fall in Guisborough Woods, I followed a random bridle way instead of the Cleveland Way at some point at got a bit lost... The situation forced me to take out my head torch to read the map, I could have finished without it otherwise. I finally ended up on the disused railway line halfway between the last checkpoint and the finish line, so I had to run to the checkpoint and double back to the finish. Looking at the maps on Sunday I don't think it made any difference in terms of ascent or distance, but it's a bit frustrating.
I finally arrived at Guisborough shortly after 8pm, finishing in 11:16, 17
th
out of about 50 on the starting line. I got congratulated by Jon, got a pint of black stuff and a massage. I then manned the finish checkpoint, marking down the times of the last runners. These guys were incredible - to find some energy in the night after a day like that... Well done to everyone!
Overall, the race appeared to me slightly more "professionally organised" than the previous Hardmoors 110 editions. Jon is probably getting the hang of his race director role :) . Nevertheless, the race kept its usual friendly atmosphere. I also met quite a few runners I didn't know before that seemed to read my blog on a regular basis. Hi guys!
Here are my recorded split times. Wainstones is incorrect, as I marked it at the road crossing.
Checkpoint
Distance km**
Time
Speed
Total
Split
Planned
Arrive
Depart
Diff min
km/h
Start
Helmsley
0.0
08:00
08:04
CP1
White Horse (Sutton Bank)
14.5
14.5
09:35
09:33
-6
9.78
Sneck Yate Bank
22.6
8.1
10:30
10:24
-10
9.53
CP2
Osmotherley Village Hall
35.5
12.9
12:05
11:48
11:59
-10
9.21
CP4
Wainstones
52.0
16.5
14:15
(14:27)
CP5
Bloworth Crossing
58.9
6.9
15:26
15:11
-19
7.31
CP6
Kildale Village Hall
68.5
9.6
16:40
16:25
16:42
-2
7.78
CP7
Roseberry Topping
75.5
7.0
18:17
17:45
-34
6.67
CP8
Disused railway
84.5
9.0
19:37
Finish
Guisborough Cricket Club
86.6
2.1
20:00
19:20
-44
7.01
(speeds are calculated on the moving time only)
It's quite clear that I followed my plan fairly well until Kildale and then managed to keep the pace up more than expected. This is confirmed by this graph comparing Hardmoors 110 and 55 speeds.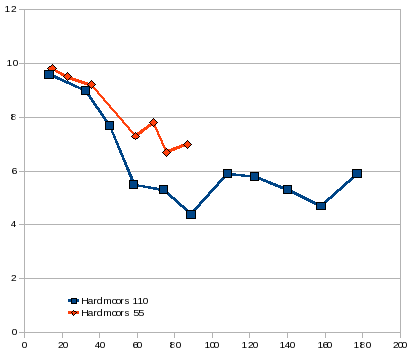 Speed (km/h) against distance (km) on Hardmoors 110 and 55.
The adverse weather raised a question amongst many runners: "What if that happens on the Hardmoors 110?". Getting cold and wet for 12 hours is one thing. Spending 30 hours out (including a night) is a completely different story, especially with the decrease in pace. I also thought that it could have been much worse. Indeed, it was probably around 5°C and only drizzling. What about 0°C with heavy sleet?
Ultra cold.
* And who was celebrating his birthday on the race day, event which I was unaware of at the time, so Happy Birthday John! And sorry for being late.
** You'll notice some minor differences in the distances as compared to my plans. These ones are based on John K's data (corrected for his meanders) which I believe is a bit more accurate.