A few more energy gels compared
By Julien on Monday, December 14 2009, 17:22 - Nutrition - Permalink
When in Nice for the marathon, I bought a few energy gels to complete
my comparison
: mX3 extreme, Scientec Nutrition Over Blast and Overstim.s (Energix, Antioxydant, Coup de fouet, Red Tonic).
The main difference as compared to the typical British ones is that they all sell in similar, smaller pouches. Their weights vary between 25 and 27 grams only, when the ubiquitous PowerGel and SiS Go Gel weigh 41 and 67 grams respectively. Not only these gels are lighter than any other I've tested before, but all of them are also much more expensive per calorie. The mX3 Extreme gel sets a new minimum with a ratio of only 37.56 KCal/£, way under the already overpriced SiS Smart Gel at 55 KCal/£.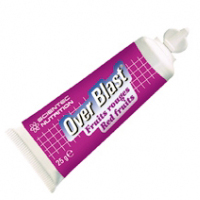 During the long runs when the sweet food becomes unbearable, the Overstim.s Energix range features a savoury peanut flavour, which is a great idea. Unfortunately, the gel texture is so thick that it took me a lot of effort to down it (think about "drinking" peanut butter through a 2mm-large hole). I'm not sure how people do normally deal with that, but I found them absolutely unusable in practice.
Overstim.s also produces the "Red Tonic Sprint Air" gel with mint and eucalyptus. The fresh and intense taste is supposed to boost you when you're out of breath. It's definitely strong, now whether that would actually make any difference...
On the content side, it looks like French runners like funky add-ons. Aside the typical vitamins A, B1, B2, B5, B6, B12, C, E, PP and caffeine, some of them include the following ingredients:
royal jelly
,
propolis
,
chloropyll
,
gingseng
,
kola
,
crataegus
,
cinchona
,
meadowsweet
,
angelica
,
ginger
and
fenugreek
. Not sure what all of those are good for, but they must justify the price...
Ultra not impressed by French gels