Watford Half-Marathon 2009
By Julien on Monday, February 2 2009, 11:52 - Events - Permalink
A couple of us went to run the
Watford Half-Marathon
yesterday. The weather was quite chilly, especially in the areas exposed to the wind. A couple of snow flakes on the finish line. The route was pretty good, slightly undulating, much more in the countryside than what I expected.
I've not trained much after the winter break so I didn't know what to expect from the race. I took the first half rather easily (49'30) and it felt quite good. So I decided to push a bit the second half, I felt like flying and it took me only 45'40. Total: 1:35:10 with a very negative split, ranking 367/1958 finishers. Not too bad for what is my longest run since October. The negative split also means I could have run at least 2 minutes faster, and maybe even gone for a PB. Oh, well...
The race would have been much more fun with today's weather: there is about 10cm of snow in central London. They don't seem to be able to deal with snow here, as none of the pavements are salted and even fairly important roads haven't been treated yet. Can't wait to get my fell running shoes on and go for a decent run in the snow tomorrow!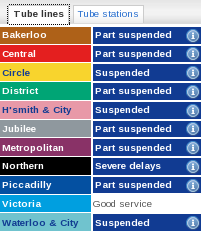 Ultra start of the season.