Dublin marathon 2008
By Julien on Thursday, October 30 2008, 18:28 - Events - Permalink
Last Monday, I took part in the 29
th
Dublin Marathon
along with Team Sláinte.
The weather was one of our main concern as strong wind, rain and low temperature featured in Dublin a couple of days earlier (and later). But luckily, the weather on the day was alright: a bit windy (30km/h) and not very warm (around 5°C, maybe less) but actually sunny. We had decided to walk to the marathon start line at the last minute so we wouldn't have to wait there for too long. Unfortunately we mis-estimated the time to get there, ended up running from the hostel to the start line and forced to make a detour due to road closure. When the start was given, we weren't in the runners pack yet! So we just carried on running after this extra 1.7 miles warming up.
The late start also prevented us to run at our target speed from the start as we were stuck in the runners traffic jam. Surprisingly, that didn't bother me too much and I realised no later than the second mile that I wasn't to perform amazingly. So I decided to take it easy.
The section in
Phoenix Park
was lovely and I just enjoyed the scenery. Having my name printed on the running vest was quite a good move. Loads of people on the side were shouting "Go on Julien!". This boosted me a lot. At first I tried to say thank you systematically, then simply gave thumbs up and eventually started not to respond any more. The locals were quite involved in this big running party: from children asking for high fives to people giving away sweets and bananas (one of my favourite running food).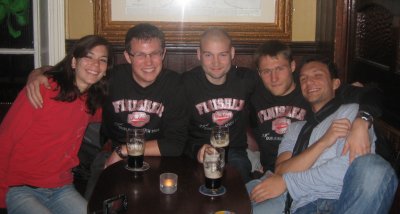 Click to enlarge
I passed the half-marathon mark in 1h44 and realised then that I was to finish in about 3h30. I thought I could still be under if I kept that pace because of the forced slow start. But I started to get cramps in my left quad and then in my right calf at about 32km (20 miles). That slowed me down a little bit and I missed the 3h30 mark by 3 minutes.
I eventually finished 1610
th
out of about 11,000. That's only one minute faster than my Belfast Marathon that was extended by more than a kilometer due to a bomb scare and during which I vomited twice. Not the best performance, but an enjoyable end of season run! I guess I haven't trained at all for speed this year.
| | | |
| --- | --- | --- |
| Distance | Time | Speed |
| (km) | | (km/h) |
| 10 | 00:51:09 | 11.7 |
| 21.1 | 01:44:47 | 12.4 |
| 30 | 02:28:08 | 12.3 |
| 42.2 | 03:32:53 | 11.3 |
(compensated chip times)
All members of Team Sláinte passed the finish line. Great achievement given that Andy and Rachel were injured and Dan, Dave and Pete were first-timers. Congratulations!
Many thanks to our 116 generous donators so far that allow us to reach and beat our £3000 fundraising target. That will make a difference in cancer research.
It's not too late to contribute
.
Ultra end of season.