Ironman training report 4
By Julien on Monday, June 16 2008, 10:36 - Ironman - Permalink
My last training session ended yesterday. Let's face it, it was a bit of a disaster.
Because of the very bad weather followed by a trip to Hong-Kong, I didn't manage to take a single long ride. I haven't swum much either. And I feel fairly slow when running - whilst
Börkur is getting sub-40 on 10km
, I feel like I'm going towards an over-50 :( How much have I lost in a month, I don't know... Maybe I'm tired, maybe I'm overtraining. The only positive point is that I'm not injured and I'll hopefully be well-rested for the race day.
I've eventually tried my wetsuit in the sea yesterday, a
Foor Quantum 2
that I managed to pay 1/3 off. It's pretty easy to wear and remove, warm but not too constrictive whilst swimming. At least something I'm happy about :)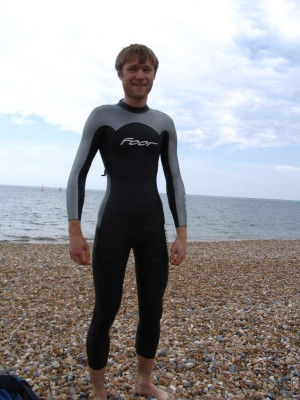 I guess the only thing I've got left is my mental. I'll try to keep on building up mental energy this week and try my best on Sunday. With a bit of luck I'll get through.
My race number will be
415
. If you've got nothing else to do that week-end, you should be able to follow live on
ironman.com
.
Ultra unprepared.