UTMB 2006
By Julien on Tuesday, August 29 2006, 11:35 - UTMB - Permalink
To make it short first, I didn't manage to complete the race this year :(
Contents:
---
Update:
added pictures (27/09/2006)
A good start
The full story now. After a week of rest in Nice, I felt pretty much relaxed for the big day. I spent the entire Friday in my bed, excepted a short trip to the pasta party. On Friday afternoon, the stress was growing in me. Will I or will I not finish the loop ? Will my hip be all right ? Then the start was given. The first kilometers up to the Col de Voza were not particularly enjoyable, due to the stress. I started slowly, in the mass, to rank 1045th at the Col. But I then entered properly the run and started to get happy running. Supporters at the Contamines and the rock band at the Chapieux were amazing, just as last year. Soundtrack of the Contamines check point includes "Dancefloor FG" which was part of the music I listened last year on my MP3 :) . At the Chapieux (km 44), I was already ranking under 500th.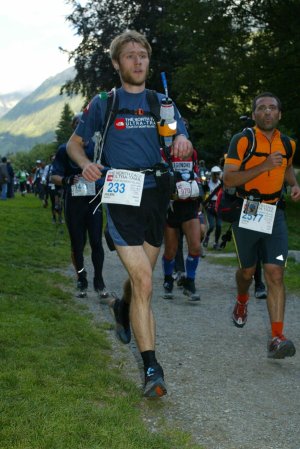 (Click to enlarge)
I had my first fear in the descent by night to the Chapieux. I twisted my right ankle in a hole I hadn't seen. For half a minute I thought the UTMB was already over for me, after only 40km. But suprisingly it was actually fine. Up to Courmayeur (km 72), I arrived at the checkpoints at the same time than last year, or slightly earlier. Feelings were good, clear mind, good speed (but very cold night !).
I managed the big stop at Courmayeur much better than last year. Pasta were yummy, but too much
al dente
to be digested easily in the middle of a race. I didn't force it, got a massage and left quickly. Ascent to the refuge Bertone was so much easier than last year :) . At that point, I was about an hour ahead of my 2005 time. The weather was really nice and sunny. I was still relatively fresh physically and felt like I would be able to push it: I could still run very easily in every flat section.
Deception
The descent to Arnuva would break my dreams: the very gentle but steadily growing ache in my left ankle (ie.
not
the one I previously twisted) started to be really annoying. It was painful while running or going downhill. Doctors at Arnuva gave me some strong anti-inflamatories. I then climbed the Grand Col Ferret (highest point of the race) relatively easily, especially regarding to last year, when I needed to stop and sit down several times. But the descent to La Fouly became increasingly harder. Steep slopes were a torture and I couldn't even run the gentle ones. Anti-inflamatories didn't seem to help at all. I was continuously being overtaken. At La Fouly (km 102), kinesitherapists gave me a strapping with compression points. I planned to walk up to the big check point of Champex and then see. Unfortunately, strappings were also useless and even walking on flat terrain became painful, and I took more than 2 hours to walk 7 easy kilometers. During this section, I was overtaked by all the runners that were still able to run (including Michel Poletti, the organiser, quite suprising) and then I was left alone for a while. At Praz de Fort (km 110) still 45 minutes ahead of my previous time, I decided to stop the destruction and to withdraw ... I know pain, just like cold, is only a conception of the mind, but I
really
couldn't go any further. As I managed to run at least 100km, I'm an
arrivant
(which means finisher), instead of being a
finisher
(in English in the text)... I ranked 1370th.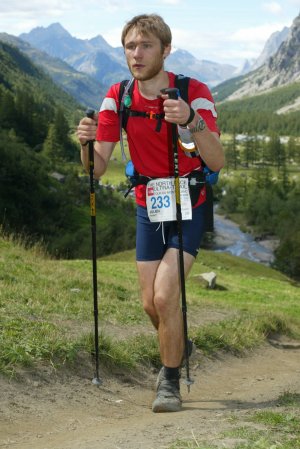 (Click to enlarge)
Live times
2005
2006
Way Point
Distance
Running time
Rank
Running time
Time diff.
Rank
Col de Voza
13km
01h55min50s
wrong
01h54mn53s
-1min
1045
Les Contamines
25km
03h29min59s
537
03h24mn34s
-5min
700
La Balme
33km
04h50min24s
411
04h48mn13s
-2min
584
Refuge Croix du Bonhomme
38km
06h18mn52s
489
Les Chapieux
44km
07h14min28s
370
07h03mn54s
-10min
464
Col de la Seigne
54km
09h35min30s
345
09h11mn59s
-23min
384
Refuge Elisabetta
58km
10h08min37s
342
09h46mn44s
-22min
363
Arête Mont-Favre
63km
11h31min02s
325
10h55mn00s
-36min
352
Col Chécrouit - Maison Vieille
67km
12h15min32s
333
11h36mn14s
-39min
337
Courmayeur
72km
12h56min02s
319
12h16mn50s
-39min
338
Refuge Bertone
77km
15h18min49s
308
14h25mn01s
-54min
357
Refuge Bonatti
84km
17h10min40s
363
15h43mn13s
-1h27min
333
Arnuva
89km
18h08min06s
350
16h41mn47s
-1h26min
323
Grand Col Ferret
93km
19h41min59s
326
18h13mn25s
-1h29min
307
La Peulaz
97km
20h18min09s
318
18h48mn16s
-1h30min
wrong
La Fouly
102km
21h13min23s
304
19h49mn12s
-1h24min
316
Praz de Fort
111km
22h43min24s
281
21h57mn42s
-45min
369
Champex d'en Bas
119km
24h29min32s
275
Bovine
126km
27h25min17s
256
Trient
132km
29h01min24s
258
Les Tseppes
135km
30h20min10s
251
Vallorcine
142km
32h21min29s
248
Argentière
149km
33h45min42s
243
Chamonix - Arrivée
158km
35h31min37s
233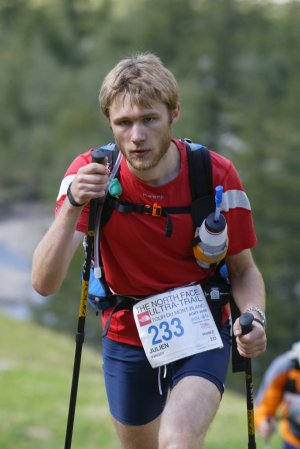 (Click to enlarge)
Conclusions
I'm globally surprised how I felt globally very well, especially in the big ascents, as I didn't have as much specific training as last year. My hip didn't complain so far. I'm also happy about my management of the food points, much more efficient and without any trouble with my stomach. And overall, how my mind was clear all way long - I could really enjoy the race and the landscape. So where does that tendinitis-like pain come from ? I had a very slight ache probably due to rock climbing a week before. It may be the starting point that dehydration may have made worse. Today it's even hard to walk normally. I hope that will heal soon!
It seems that runners were pretty good this year: 1151 (nearly half) of them finished the loop! Congratulations to all of them. Also, people were faster (eg. at La Fouly, I got a similar ranking although I was about 1h30 ahead).
I know it's not recommended, but I did a bit of gear testing during the race... I eventually decided to take the Raidlight shoulder strap bottle (see
"Shock week-end" in North Wales
). I managed to remove a pipe hook from the strap to make it more stable and I also shortened the pipe. But I'm still not 100% convinced. I think I'll need to stitch it directly to the strap. I also tried my new head torch
Petzl Myo XP
, which is pretty powerful and lasted easily all night at full power.
I've raised again some funds for
AVERT
- this year I've collected £331.21. Unfortunately, it's quite as much as last year, because I did not manage to complete the loop and also because I had less time for fundraising. A big thank you to you all donators !
So what's next ? It's hard for me to leave the UTMB on a failure, so I'm quite tempted to try it again next year. But I also want a bit of change. I've been thinking of the
West Highland Way
or the much flatter
Grand Union Canal 145 miles Race
. Any suggestion welcome!
Ultra deception.